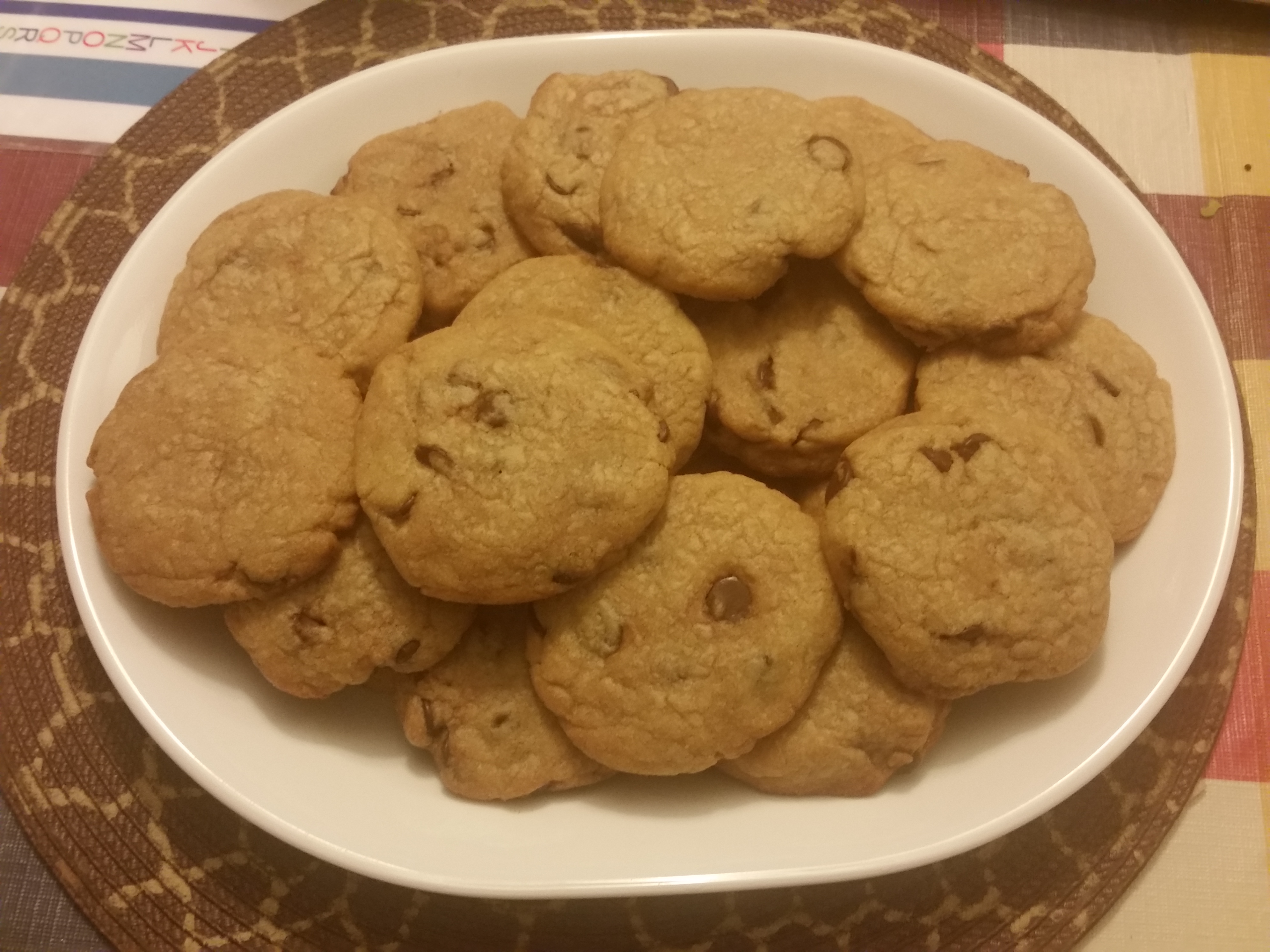 Chewy Chocolate Chip Cookies
As soon as I got married, and my wife and I started talking about having a baby, I knew that chocolate chip cookies was something that I definitely wanted to know how to make. One of my fondest childhood memories is helping my mom make chocolate chip cookies; but I didn't just want to copy my mom's recipe, so I got my own. My wife isn't much of a baker, so I thought I'd better step up. This one is a classic chocolate chip cookie recipe. It's those big, chewy cookies you'd find in the cookie jar as a kid. No fussy eater could turn these down.
Fussiness Level: 1
Difficulty Level: 3
Ingredients
4 cups all purpose flour
1 ½ cups salted butter (melted)
2 cups packed brown sugar
1 cup white sugar
2 eggs
2 egg yolk
1 tsp baking soda
2 tbsp vanilla extract
2 cups semisweet chocolate chips
Directions
Sift together the flour and baking soda and set aside.

In a large bowl mix together the melted butter, brown and white sugars with a wooden spoon until well blended and smooth.

Stir in the egg, egg yolk and vanilla until creamy; gradually mix in the sifted ingredients until blended, then fold in the chocolate chips.

Preheat the oven to 325 degrees F (165 degrees C). Line rectangular cookie sheets with parchment paper Using a tablespoon, scoop out 1 to 2 inch balls of cookie dough and flatten them slightly in the palms of your hands (but not too flat) then place them onto sheets. Leave them about 2 inches apart.

Bake for 10-15 minutes in the preheated oven, until the edges are lightly browned. A 10 minute bake give you soft and gooey Allow to cool on baking sheets for 5 to 10 minutes before moving to a plate or wire racks to cool completely.
Makes 3 to 4 dozen cookies depending on the size
Possible recipe changes: Only use 1 cup of chocolate chips if you don't like your cookies too sweet. Replace 1 cup of chocolate chips with walnuts, or any other nuts.