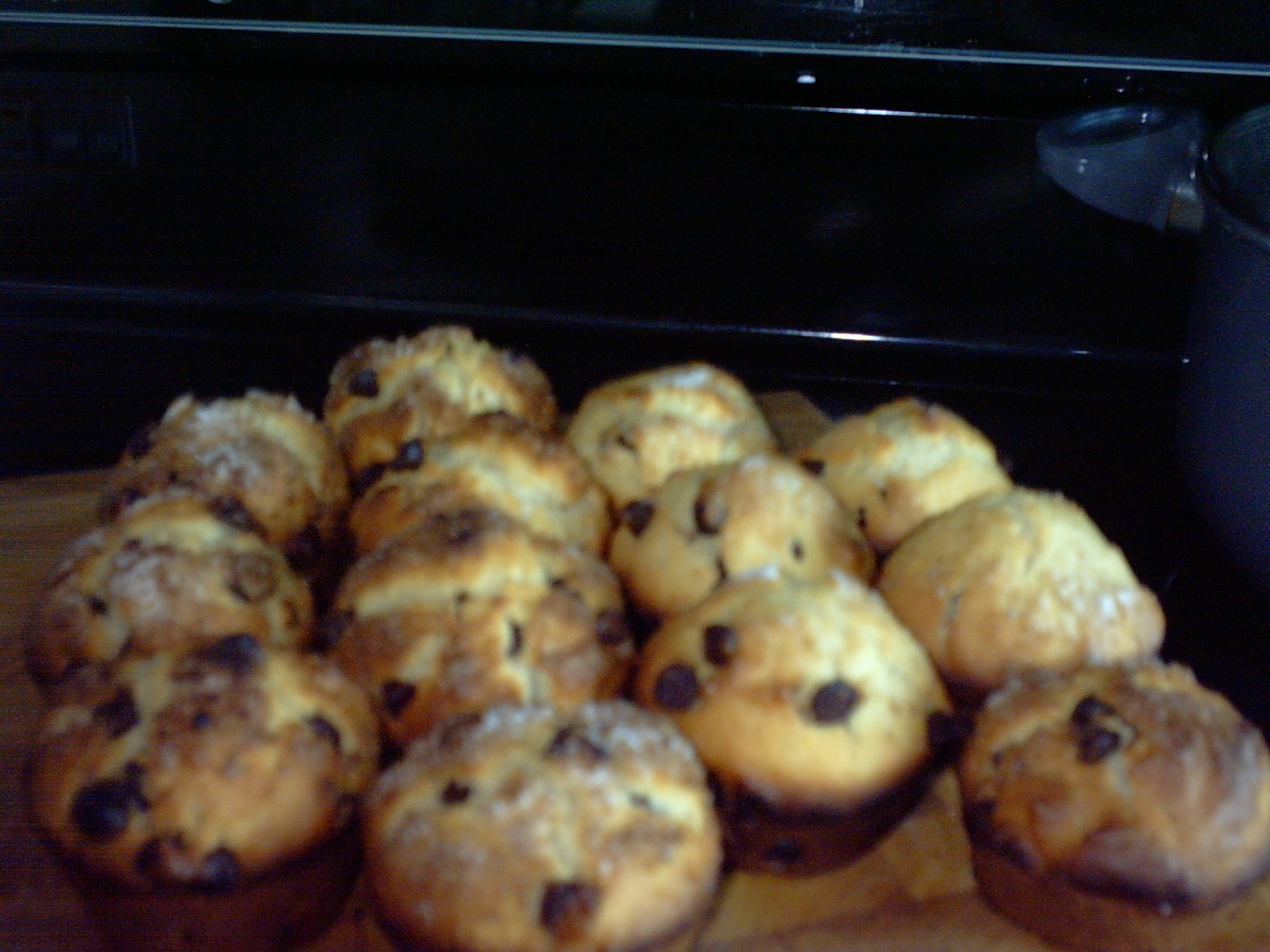 OK, I admit it…I like baked goods that have chocolate chips in them. That's all part of the fussiness. Chocolate chip muffins are best when served warm out of the oven; but they are still great to keep for quick breakfasts in the morning, or for that afternoon snack at work and save a few bucks a week instead of going to the nearby cafe. Chocolate chip muffins are the only kind of muffins I like, but with a simple substitution of the chocolate chips for another ingredient of choice this recipe can be the base for several other muffin varieties.
Fussiness Level: 1
Difficulty Level: 3
Ingredients
4 cups all-purpose flour
1 cup white sugar
1 ½ cups milk
2/3 cup vegetable oil
2 cups semisweet chocolate chips
2 eggs
6 tbsp baking powder
Directions
In a large bowl, combine the flour, 1 cup of sugar, baking powder and chocolate chips and mix well with a wooden spoon.

In a second, medium sized bowl, combine the eggs, milk and oil. Mix well using a wire whisk.

Add the wet ingredients to the dry ingredients all at once, and stir with the wood spoon until the dry ingredients become moistened. (It's OK that the batter looks lumpy, that's how it's supposed to look.)

Preheat the oven to 400 degrees F (205 degrees C). Line the muffin trays with paper baking cups. Fill the cups all the way to the top of the paper liners.

Bake for 20 to 25 minutes or until toothpick stuck in the centre comes out clean. Cool for 5 minutes before removing from the pan.
Makes 2 dozen muffins
Possible recipe changes: Replace chocolate chips with any of the following: Mashed banana, raisins, or any type of berry.